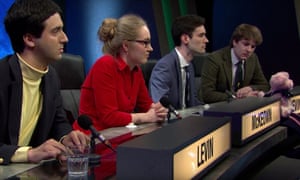 Go in with a strategy
The team first prepared for the show by scouring YouTube videos of old episodes to find common topics – and the same approach works with past exam papers, says McKeown. They'll help you suss your weaknesses and the course structure. "More so than learning the content of the course, it's about working out what you need to know and then using your time as efficiently as possible. People approach revision as something separate from the work you've been doing all year, which is a mistake. If you look at it as part of the process, then it's less daunting."
Repeat to perfection
Don't get too complacent about the topics you think you know well, team captain Devine-Stoneman advises. "I try to cover a topic at multiple points in the run-up to the exam. A month or two beforehand, I run through my notes again, and again in the days leading up to it. If you don't have much time, make sure the things you do know, you can ace. It's usually better to go in with a selection of things you can do very well than a half-hearted knowledge of a range of things." That way, Hazell adds, you can always try to steer an awkward question back to something you know.
Use flashcards
The team is big on flashcards. Devine-Stoneman uses an app when he gets a free moment in the lab as a PhD student in materials science. McKeown also uses them for both her languages degree and quizzing. "I'll focus on flashcards in the last steps before the exam," she says. "I tend to use different colours. Nice stationery is a motivation for me."
Take breaks with rewards
The team agrees it's important to have a rewards system in place when studying. McKeown says she always has a puzzle book or novel on the go. "Organise yourself so you don't have to revise all through the night. It's good to relax in the evening. There comes a point when you stop absorbing information."
"I'm big on last-minute cramming," says Hazell. "I'm quite aggressive in setting goals. If there are three days before an exam, with 24 lectures to revise, set daily targets so you can feel like you're making progress and you'll have covered everything." And if you run out of time, "know when to cut your losses", he says. "If there's a small area of the syllabus that's going to take a huge amount of time to revise, I ditch it." At this point, "it's about making sure you know what you know in more detail".
Since you're here…
… we have a small favour to ask. More people are reading The Guardian than ever but advertising revenues across the media are falling fast. And unlike many news organisations, we haven't put up a paywall. We want our journalism to remain accessible to our global audience. Our readers' contributions enable us to maintain this openness, so we can all access accurate information and analysis.