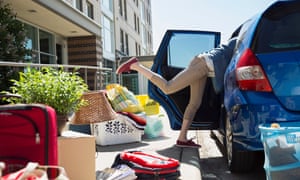 While tackling some of these obstacles will probably be simple enough (try the canned foods aisle), with so much to think about you could be forgiven for sweating over the small stuff and feeling a bit overwhelmed when preparing for your first term.
Fortunately, help is on hand. If you're worrying about whether to bring a spatula, how to make friends, or whether you should have read and memorised the whole of your subject's reading list, our experts have the answers you need to put you at ease – just in time for fresher's.
So join our live Q&A on Friday 15 September from 1pm-2.30pm BST, where we'll be discussing:
What to bring to your new home
How to prepare for your course
Organising your life — from scheduling and planning your work to registering with a GP
Common freshers' mistakes and misconceptions
Getting your finances in order
Your concerns and fears
How to take part
The Q&A will take place in the comments section below this article. Taking part is easy: to comment create a free Guardian account, or log in using your Twitter or Facebook profile. Alternatively, you can tweet us @GdnStudentsor email your questions to [email protected], who can post them for you.
The panel
The University of Lincoln's student president, Kudzai Muzangaza
Rashid Ajami, 26, CEO and founder of Campus Society
Ellie Tyrrell, a PR student at the University of Greenwich who blogs about student experience
Owen Burek, editor in chief at money website Save the Student
Grace Anderson, communications manager at mental health charity Student Minds