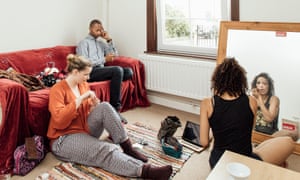 Music
Even with a student discount, you'd be paying £60 a year for Spotify Premium or Apple Music (both £4.99 a month). Both services offer family subscriptions for up to six people at £14.99 a month – which means that if you have over three people in your flat, you'll save. Both plans allow you to keep your own playlists as well as create and share new ones.
TV & movies
It might seem easy to keep using your ex's mum's boyfriend's Netflix login for now, but eventually they'll change the password and cut you off mid-binge. But fear not. While a basic subscription costs £5.99 a month, a £9.99 plan can be watched by four separate people, as long as you're not watching the same thing at the same time. You can create separate profiles within the same login so you can carry on where you left off.
Your other streaming options include Now TV (£7.99 a month), which gives you access to 11 Sky TV channels, as well as box sets such as Game of Thrones. Amazon Prime also has a family option where you can share accounts to stream shows. But watch out – it's probably still cheaper to go for a Prime Student account, which is free for six months and then £39 a year while you're still at uni.
Food
It's tempting to buy in bulk when you see a good deal. But you'll often end up throwing some of the food out, so you don't end up saving at all. Sharing the food shop with housemates can help reduce the waste. Buying by the pound, bag or box is cheaper. It really adds up when you upsize the whole shopping list. Shopping online together means you can easily compare prices, while the delivery fee is split between you.
Phone
This one's especially useful once you leave halls for a house-share. The likelihood is that you'll have to get wifi. Look out for broadband packages that can also give you money off mobile deals. With EE broadband, you get an extra 5GB data for your mobile included in the price. BT's student broadband offer includes £5 off a month if you take out a mobile phone deal with them, knocking £60 off your annual phone bill. This applies to each housemate – not just the conscientious one who does the admin.