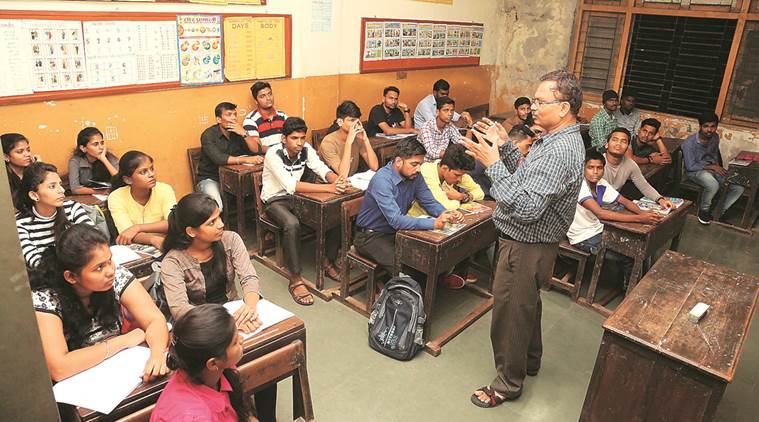 The school dates back to 1960, when it
Kamgar Maidan in Parel resonates with cheers of budding cricketers and the swish of their bats in the morning. After sweating it out on the pitch, the chidren from the nearby areas return home, pick up their bags and head towards school. Overlooking the maidan, a school stands in contrast, where classrooms come alive at night.
People from all walks of life attend Milind Night High School and Junior College located on the third floor of a five-storey BMC school and offers a wide range of subjects from classes 8 to 12. With age no bar, an 18-year-old and a 55-year-old can appear for the class 12 examinations at the same time. The school dates back to 1960, when it had the attendance of just three students. Now, there are over 300 students on its roll. It has five classrooms, a small computer room and a staff room. Records of every student, right from when the school was opened, are stored in the staff room. It also has a small hall, where they host an inter-night school debate.
Ganesh Tukaram Patil, who has been teaching commerce there for the last 27 years, said, "For us, the goal is to serve the society. We have students who come from underprivileged background, were forced to drop out of school to look after their families. They work throughout the day, and make use of the nights to study."
When asked about the difficulties faced by the school and students, Patil added, "Many students are not allowed to miss work in order to attend school. It becomes difficult for them to be consistent in their studies. The situation worsens especially during the exams. These children cannot afford to skip work, and are only allowed to leave when they need to sit for their exams."
Principal Suresh Kokitkar said, "Most of our teachers are well-qualified and experienced. The most precious thing the teachers have is the love for these children. There is a lack of a couple of teachers, but the school still runs well. There is no peon or worker in this school, teachers do every work."
In addition to these standard classes, the school has also partnered with Deeds Public Charitable Trust, an NGO, that helps speech and hearing impaired students to clear their school examinations.
Shabina Choudhary, a member of the NGO who has worked with the night school for three years, said: "Most speech and hearing impaired students need to fill up Form 17 after completing SSC Board exams to be eligible for classes 11 and 12. Additionally, these students have not passed in English but clear the board because only the best of five is counted. Most government schools do not accept these students as it will increase their workload. So, we got in touch with this night school, and currently run classes for the speech and hearing impaired children from here."
Over the last three years, the school has helped over 90 students score passing grades in English, which allows them to be enrolled in classes 11 and 12.
Jayashree Patil, a 24-year-old housekeeper working in Bandra, said: "I attend school no matter what. I leave home for work at 6 am, and then attend school every day. After finishing classes, I reach home at midnight."
Students at the school come from diverse backgrounds and professional fields. Among them were a group of five women working at the Tata Memorial in Parel, all of whom had previously failed their class 8 exams. After enroling at the school, they managed to pass class 12 and also gained promotions, which were earlier denied to them because of their lack of education.
Jamal Sheikh, a 20-year-old worker at a tyre shop in Dadar, had no option but to find employment after being unable to clear the SSC after three attempts. "I will appear for the exams again, so I get a better job to support my family," he said.